Congratulations to the Class of 2012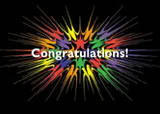 The Business Office, members and staff would like to Congratulate the Class of 2012. The Graduation Dinner was this past Saturday, February 9, 2012 at the Union Hall. New mechanics and their families had a very nice dinner and certificates and a few little goodies, given to the mechanics by some of our Signatory Companies, were presented by NEIEP Area Coordinator/Local #10 President, Sonny Yeatman, and Business Manager, Jim Lowery. Also here to give their congratulations were Maryland and District of Columbia AFL-CIO President Fred Mason, Metro Council President Jos Williams and Community Services Director Kathleen McKirchy. To them, we would like to say Thank You for taking time out of your schedules to come out and help us celebrate. This dinner and celebration marks the end of alot of hard work and determination by this group of mechanics. Pictures have been put into the Photo Gallery if you would like to see them. I would like to thank AnnMarie Caparrotta, as always, for giving me some really great pictures to post for everyone to enjoy.
A big thumbs up and congratulations on a job WELL DONE.